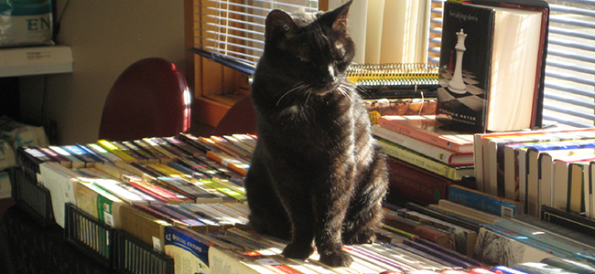 In Loving Memory…
It is fitting to begin with "Once Upon a Time…" since this story contains all the elements of a classic fairy tale: a difficult youth, evil siblings, promise, maturity, a touch of magic, and most poignantly… immense love.  This is in fact the story of a King – a meek, young, black kitty who would grow into the majestic and deserved title of "King of Brack Hearts".  This is a tribute to our beloved hospital mascot, "Spookie" (1998-2015).
Spookie's introduction to Brack occurred at age 3 – he was not alone… two siblings, suffice to say evil step-siblings, were in tow.  Truth be told, Spookie's rough beginning did not exactly shape him into a charming prince either; his somewhat frightful personality is what earned him the name "Spookie" (pretty darn scary cat!). As Fate would have it, Spookie would be the only one of the three dark musketeers to stay permanently.  Should we assume happenstance or more likely, the deliberate strategy of a wickedly clever cat?!
Time would soon reveal that Spookie was the farthest thing from wicked.  Innately, he had a very gentle "sixth sense" that guided his masterful ability to console all breeds of patients staying at the hospital: curling up next to them, offering comfort and warmth, making rounds to ensure all was in check and in an expert manner, 'cat-whispering' sweet communications of reassurance to animal friends in need.
Of course, Spookie's magnetism was not limited to four-legged creatures.  What human target could resist his handsome face and stately strut when he made his way to reception for a dose of client attention and love?!  Funny thing is, Spookie's front office visits had more than selfish motives.  He was as diligent about comforting concerned parents as he was guarding sick or frightened patients.  A kitty rub, purr, or twinkling glance of comfort was his secret weapon to offering soothing solace.
Last but certainly not least, Spookie's magical love-spell was profoundly and forever cast on the Brack team.  So many years ago when he first walked through our doors, young Spookie had HUGE paws to fill on the heels of a very treasured mascot named Frankie.  How could he win the love and support of the Brack family?  Determination, kindness, perseverance… and most impressively, a good-natured tolerance of the MANY costumes he rocked for over a decade!
Spookie ultimately ruled his Brack kingdom for 14 years.  When he wasn't taking care of others, he was most likely basking in a favourite "sun spot" or under the "Bahamas" lamp, catching a few zzzz's or on a regular basis, wangling extra treats from gullible staff members (you know who you are!).  We are very thankful for these special memories that we can revisit in our minds, especially when we feel a little kitty tug at our hearts. This past April 17th, Spookie let us know that it was time to say his gentle goodbye. His legendary popularity drew a very large and loving crowd of both past and current employees – indeed his family – to be at his side.
We love and will miss you Spookie – you are forever the King of our hearts!
Your Brack family and friends xo