The Brack Animal Hospital Team believes in giving back to the community in which we live. All of our team members are involved in fundraising for different charities throughout the year. We focus on animal-related charities and have raised funds through a variety of methods including pasta dinners, silent auctions, kettle corn, chocolate bar and candle sales. Over the past 3 years, our team members have raised over $25000 for various animal charities, with $10000 being raised in 2010 alone.
The following charities will benefit from our 2013 fundraising initiatives: Erie Wildlife, Guide Dogs for the Blind, Windsor Essex Therapeutic Riding Association (WETRA), Canadian Animal Assistance Team, and Farley Foundation.

Brack Animal Hospital has also donated 2 sets of pet oxygen masks to the Windsor Fire Department. These masks assist animals that are rescued from homes ravaged by fire. In addition, the BAH staff have in years past sponsored a family-in-need at Christmas through Windsor/Essex Children's Aid Society. This year we have chosen to support the Homeless in Windsor/Essex County by giving FREE Nail Trims to clients that bring in a donation of dry goods for the "Street Help/Unit 7" organization.
Several of our team members also volunteer their time for such charities as WETRA, Erie Wildlife, SJA Therapy Dogs, and the MS Walk-athon. If you would like to make a donation to one of the charities listed, please contact Marilyn (519) 966-1020.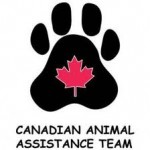 All year round you can purchase a variety of Specialty Chocolate Bars and Fresh Kennel Popcorn (made locally) – all proceeds go to the BAH charities.
Cookbook for Charities
One of our most successful charity fundraiser initiatives has been the BAH Cook Book! Through the vision of one of our veterinary technicians, Jo-Anne Spitse, and with the help of her sister Karen, the Doggone Good Recipes cookbook came to life! The wonderful cookbook featured over 250 mouth-watering recipes with all profits going directly to our animal related charities.