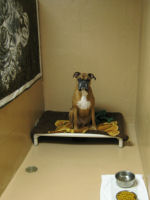 Whether it's for long days at work or a much needed vacation, Brack Animal Hospital provides boarding services for both dogs and cats. Our climate controlled facility houses up to 19 canine guests and 8 feline guests. If your pet will be staying with us for 7 days or more, our boarding service includes a complimentary nail trim for juniors (under 8 years old), or a complimentary boarding check for seniors (over 8 years old).
Our canine guests reside in a 6×4 foot enclosure that has a Kuranda pet bed with bedding for their comfort (larger enclosures are also available upon request for multidog households). All canine guests are exercised 3 times each day and dine on high quality dog food. (unless you prefer to supply your pet's food).
Feline guests are housed in a separate room from our canine guests to minimize stress and noise. They are given comfortable bedding and high quality cat food to enjoy (unless you prefer to supply your pet's food). An animal care attendant tends to all feline guests three times each day, which includes changing their litter and plenty of attention.
All kennels and cages are cleaned thoroughly each day. Laundry service includes clean daily bedding and additional clean bedding if required. It is not necessary to bring your pets bedding/bed from home, an alternative would be to bring an old t-shirt or towel with familiar scents to them that can be discarded after their stay. You are also welcome to bring his/her favourite toys and treats.
An animal care attendant is on duty during our regular business hours, weekends, and holidays.These members of our team have been carefully selected having regard to their experience in the loving care of animals, and are trained to adhere to meticulous standards set out by our hospital.
To protect your pet and other patients, we require that all guest's vaccinations are current. For canine patients this includes DA2PP, Rabies, and Bordetella (Kennel Cough). For feline patients this includes FVRCP and Rabies. All expired vaccines should be updated at least 2 weeks in advance of your pet's reservation.
When admitting your pet for boarding, please allow approximately 10 minutes to ensure adequate time for an animal care attendant to discuss your pet's feeding instructions, perform a check-over of your pet, and gather pertinent information to make your pet's visit as enjoyable. Be sure to also bring an emergency contact number should the need arise during his/her stay with us as well as any medication(s) that are currently being administered at home.